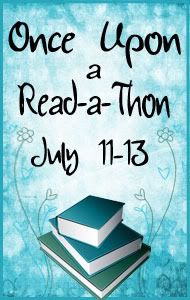 It's time for sign ups for the second annual Once Upon a Readathon! This Readathon is hosted by Lori at
Pure Imagination
, Angela at
Reading Angel
and myself. It runs from 12:01 am on July 11 to 11:59 on July 13th.
What is a Readathon?
A Readathon is where you set a goal for yourself to read more books that is beyond your average number of books you read. There is no minimum, it's all up to you! Push yourself to get some of those books read that have been sitting on your shelves for awhile! You can read anything you like. Any genre, any subject.
What you do:
To participate in the Once Upon a Readathon you fill out the form below, which is to enter you for the prizes, and enter into the linky so we can visit you! It's the same form and linky on all our blogs, so only enter into them ONCE! Then grab the button and post it on your sidebar to spread the word and so you don't forget. Then, from 12:01 am on July 11th to 11:59 pm on July 13th you read, read, and read some more! Make sure you do at least one update post (if you don't have a blog you may do this on facebook and/or twitter) and participate in at least one challenge.
MY READ-A-THON BOOK PICKS:
ZOMBIES DONT CRY:RUSTY FISCHER
DROUGHT:PAM BACHORZ
BFF & THE SECRET SANTA:AMANDA AUVERIGNE
THE VAMPIRES WARDEN:SJ WRIGHT
GRAVE SITUATION:ALEX MACLEAN
THE BOOK OF SPELLS:KATE BRIAN